Just Fitter's recently launched product UTI Test Strips have made a steady start in Amazon UK. Within a brief lifespan, the product has been used by many users to accurately measure and monitor many important health parameters from the comforts of home.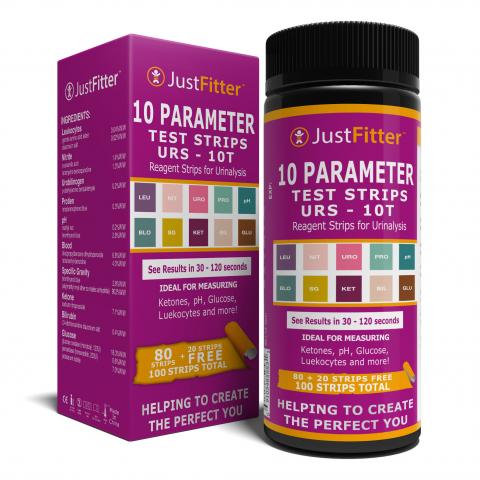 Chicago, United States - July 12, 2018 /PressCable/ —
Just Fitter is pleased to reveal that their latest product UTI Test Strips are off to an impressive start in Amazon UK. The company informs that this home testing kit has already been used with satisfaction by many users to measure as many as ten different health parameters such as Leukocytes, Nitrite, Urobilinogen, Protein, pH, Blood, Specific Gravity, Ketone, Bilirubin, and Glucose.
To find out more about Just Fitter UTI Test Strips, please visit: Just Fitter on Amazon UK
Just Fitter has designed their UTI Test Strips mainly to help early detection of Urinary Tract Infection by measuring Leukocytes and Nitrite. Test of urine for these two parameters is the most common alternative for the diagnosis of UTI. Additionally, by measuring so many other parameters, the product also helps identify irregularities related to liver, kidney, and diabetes. Individuals on a Ketogenic diet have also used this test kit to measure the efficiency of their nutritional diet plan.
Mentioned below are some of the most important uses of Just Fitter 10 Parameter Urine Test Strips.
· Leukocytes and Nitrite Test for the detection of Urinary Tract Infection
· Urobilinogen and Bilirubin tests for liver malfunctions
· Protein test in urine for Proteinuria
· pH test to measures the acidity of urine
· Specific Gravity check for the evaluation of kidney functions
· Glucose test for diabetes or renal glycosuria
The users of Just Fitter UTI Test Strips have informed that the strips are easy to use, and provide accurate result when brought in contact with the urine midstream for a few seconds. The results are available by matching the color of the strips with that of the colour chart provided on the label. The manufacturer recommends using the second urine of the day for testing purpose and consulting a physician before deciding the future course of action.
"It is really encouraging to see that more and more shoppers are now relying on our UTI Test Strips to find out important details about their body. We are also receiving many calls from people willing to know more about the product," informs a senior spokesperson from Just Fitter. "We have no doubt that the demand will increase further within the next few weeks."
Following the launch of the product, Just Fitter has introduced a number of attractive offers for their customers including a handsome discount, free shipping on orders above £20, and a 100% money back guarantee.
To find out more about Just Fitter UTI Test Strips, please visit: Just Fitter on Amazon UK
About Just Fitter: Founded in 2014, Just Fitter is dedicated to helping people achieve their best physical, mental, and spiritual health by encouraging them to embrace the benefits of a Keto diet lifestyle. Partnering with some of the best doctors, chemists, and nutrition scientists, the company has already helped thousands of people improve their lives in many ways including going Keto. Just Fitter also runs a popular Facebook page called createtheperfectyou, dedicated to helping people adopt the Keto lifestyle.
Contact Info:
Name: Michael Ford
Organization: Just Fitter
Address: PO Box 803338 # 57363, Chicago, IL 60680, United States
Phone: +1-888-297-8388
For more information, please visit http://www.justfitter.com
Source: PressCable
Release ID: 372592